O2 (Telefonica UK Limited) is a telecommunications services provider in the United Kingdom, owned by the Spanish multinational Telefónica. With
32 million
subscribers, O2 is the second-largest mobile network operator in the United Kingdom after EE, with Vodafone in third place.
O2 contracted me on June 2018 to help on their
Brand Transformation
project.
Meet the team

O2 contracted EY Seren to take part in the inception of their
Brand Transformation
. They had been observing the customer satisfaction polls and wanted to change the perception people had of the brand. 
EY Seren sent a small team of CX and UX designers to conduct the research and complete the strategy phase.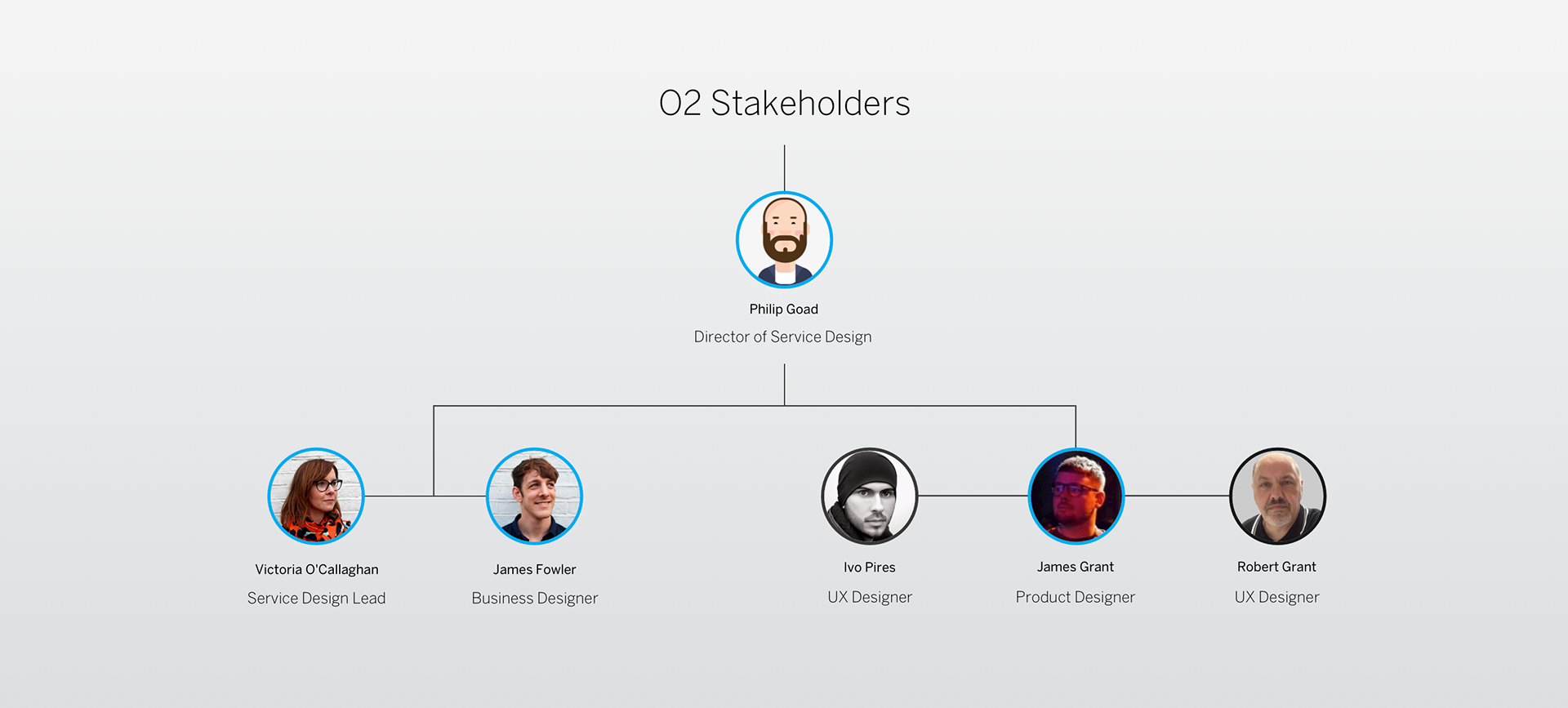 O2 started more and more to be perceived as an old brand. They wanted to change this perception and in the process update the way they do things and explore new technologies. At the time we started working for them they had just bought a new system that would tie in all their touch points.
The Problem:
On this project, we had to be as innovative as possible while navigating the restrictions of the new system. It was imperative to understand what the customers' needs were and find ways to fulfil them with new and innovative ideas.
The Goals:
• Find out what customers need from their network provider.
• Find out user pain points and motivations
• Create a proposition, stakeholders would recognise as valuable
• Create a seamless experience through all available channels
• Create a document that would collate all our research and strategy in one place
Key Performance Indicators:

O2 would entrust EY Seren to develop and put in place the strategy we created.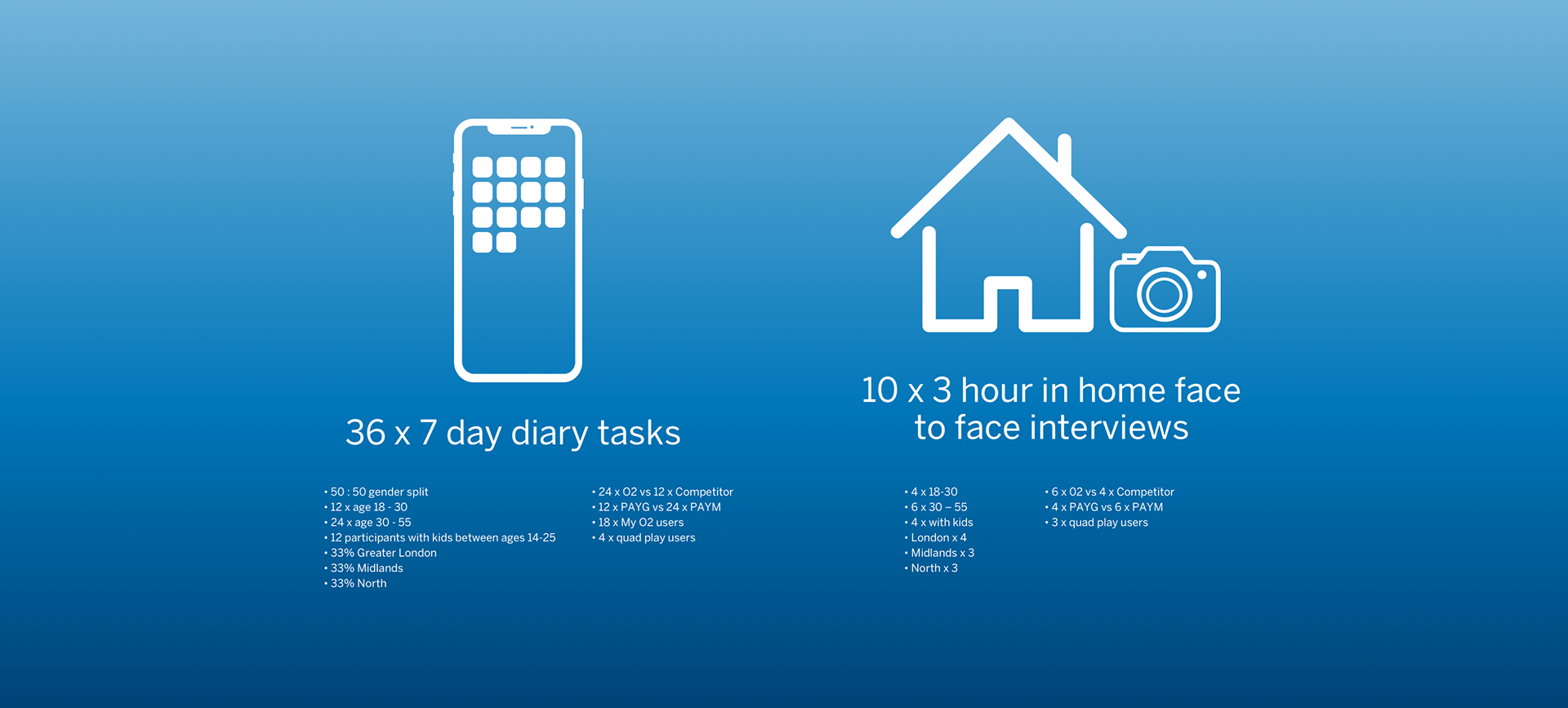 We started the research phase with a series of diary tasks and in-depth interviews. Understanding what customers want and expect from their interactions with O2 and resolving their existing pain points was the priority for us. 
We started with 36 x 7 day
Diary Tasks
exploring and focusing around lifestyle management apps and sites. We then conducted 10 x 3 hour in home face to face
Interviews
with 'star' respondents.

This research aimed to uncover and explore rich, qualitative insights. Qualitative research explores the underlying reasons for behaviour, attitudes and motivations. This deep understanding supports informed decision making in the design and development of products and services.
Research: Insights distillation
We collated all gathered information and created a series of
Design Principles
and
Blueprints
that will guide and structure our designs.
The
Design Principles
would help us align stakeholders on O2's desired customer experience, communicate the desired customer experience to the business, and ensure that teams and channels across the business are consistent, and aligned with the target customer experience.
The
Blueprints
helped us organise customers pain points, simplify O2's core experience, better integrate of O2's bene­fits and deliver valuable
lifestyle services.
Design: End-to-End Journeys
Once we had completed the service
Blueprints
we used them to identify the key features of the
"End-to-End Journeys"
.
We developed each
End-to-End Journey
through a series of
Storyboards, Abstracts
and
Omnichannel Maps.
On some we produced wireframes that we user tested.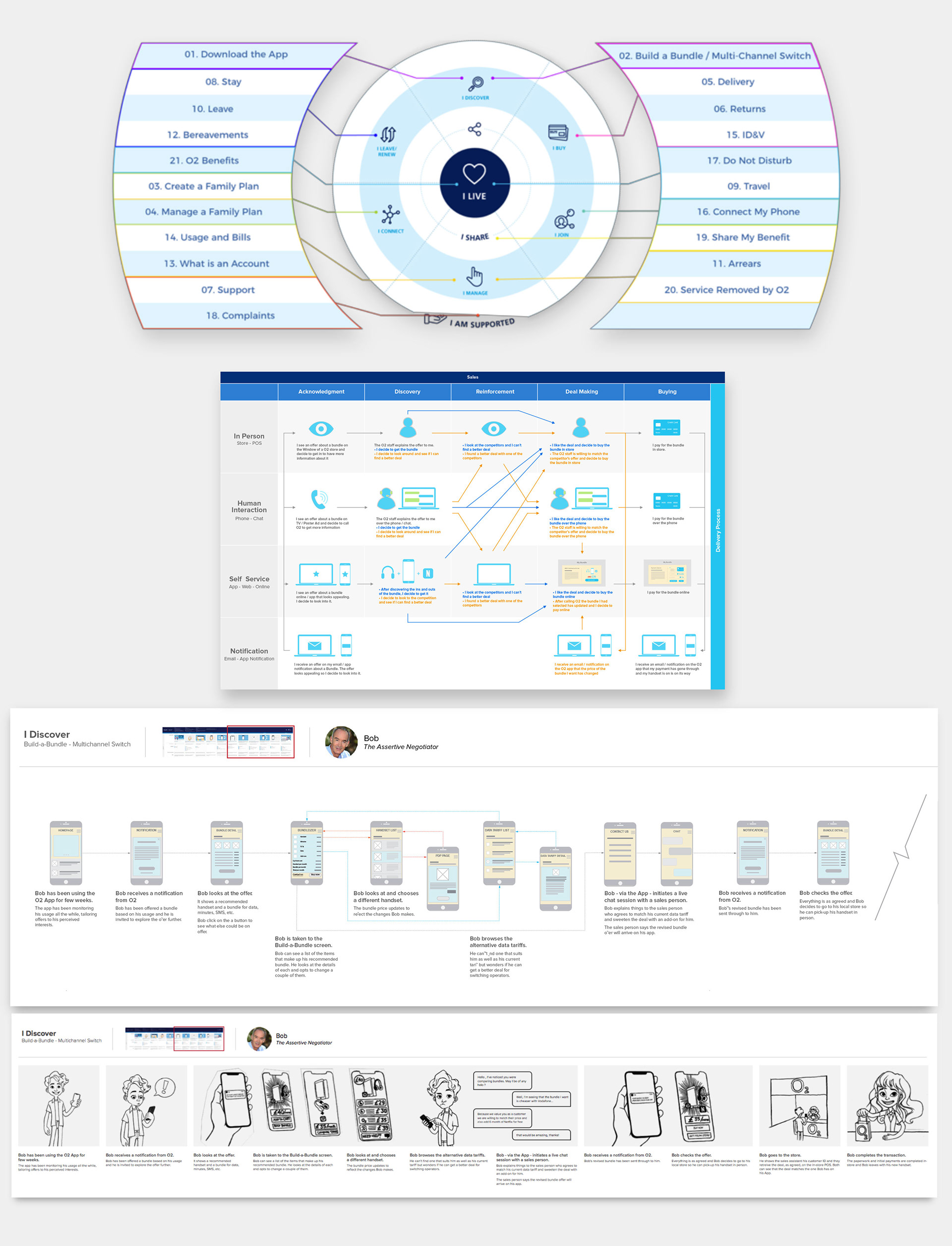 This constituted the body of work we did for the duration of this four-month project. In order to hand over this work we created a comprehensive document that we sent to all stakeholder after the final presentation
Results
During the project all stakeholders have been really supportive and pleased with the quality of work we delivered. They also were really appreciative that we took the time to create this comprehensive document for the handover to ease anyone new into the project.

A few weeks after the project we learnt that O2 signed a
£2,000,000
contract with EY Seren, to develop and help put in place the strategy we created.